Friday, January 27th, 2006
Happy CatBlogging Friday y'all – this week's Carnival Of The Cats #97 is here, so click on over and check out the furry goodness. My post today is an update on our feral friend that I first wrote about in December. Three weeks later we took him to our vet to be neutered and vaccinated, which he was not too happy about.
He mostly disappeared after that, but we're pleased to report that he's back and trust is slowly being re-established. He becomes anxious when he can't get back outside, and will sit at the door and cry incessantly until we let him out. But he's staying indoors for longer periods of time, so I think it won't be long until he's fully domesticated. We've even let our other two cats socialize with him while he's in the house; they're a bit wary of each other, but there's been no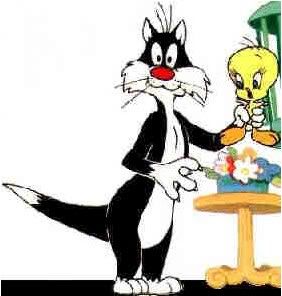 hissing, growling, or flying fur, so we think things are progressing well. The biggest problem is that we can't come up with a name for him that we like. For the time being we're calling him "P.T.", which is short for "Puddy Tat" (as in "I tawt I taw a…") as he slightly resembles Tweety Bird's arch-nemesis Sylvester, but we're not that keen on it. There's nothing wrong with the name Sylvester, but it's kind of a cliche for a black-and-white cat and we'd like something a bit more original. We could use some help in picking out a name. What comes to your mind when you look at that sweet feline face below? Please leave a comment if you have any suggestions, and thanks!